THE DIAMOND LEAGUE IS BACK! 

♦♦♦
Having returned last week after a seemingly never-ending break, athletics' premier competition, outside of major championships, sees the worlds best compete for the chance to win the diamond trophy. Forty-four global medalists and sixteen olympic champions took to the middle east, with the 2017 campaign beginning, as always, in Doha, Qatar.
There are some tweaks to this years competition. Most importantly the return to six attempts for the horizontal jumpers. This comes after the move to three for all and a further three for the top four, in the 2016 season, was a spectacular failure. Additionally, the overall format now sees each discipline staged four or six times (why we can't have each event five times is beyond me) with those who acquire the most amount of points qualifying for respective finals in either Brussels or Zurich later in the autumn.
Sadly, and controversially, there will be no hammer throw in this year's competition. Given that the women's hammer, with the imperious Anita Wlodarczyk, was one of the world record events and highlights of the Rio Olympics athletics programme, the decision is even more bizarre. As athletics struggles to attract new fans the exclusion of a developing event, where the world record holder is currently competing, hardly makes sense. Undermining this exclusion (rightly so) was the decision by Qatar to host a hammer competition the day after the diamond league event, which was unsurprisingly won by Wlodarczyk in 79.73m, her furthest ever season debut. Expect the world record to go in London.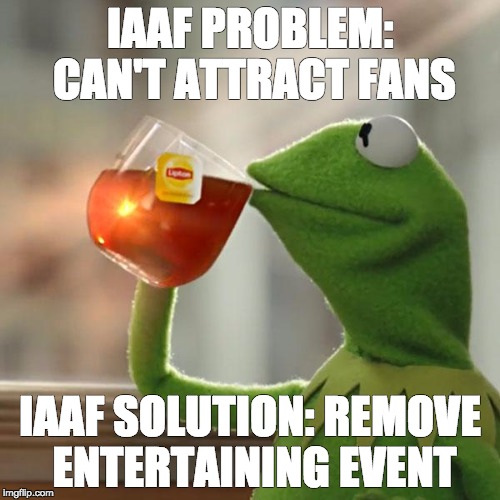 Now for the official event….
MEN'S 400M ♦
The mens' events began with one of the most competitive events in the world, regarding times, over the past few seasons. Former olympic and world champion and one of athletics most consistent performers over the past decade – LaShawn Merritt, started as the big name in the mens 400m. However, it was Bahamian Steven Gardiner who began with the fastest time in the world this year. Having broken Chris Brown's national record at the Grenada Invitation with an incredible 44.26 – a time good enough to medal at most global championships – all eyes were on Gardiner. Could he take his form across the globe?
There was very little between the majority of the field over the first 200m. Merritt having a slight lead due to his 19.72 200m speed. However, during the second half of the race Gardiner moved up onto his shoulder, and then powered past the 2008 olympic champion. Coming down the home straight Merritt was visibly straining, with a slight waste of sideways motion, trying to get back level with Gardiner. Despite this, the young Bahamian maintained the gap and looked comfortable as he crossed the line in 44.57. Good runs were also had by Tony McQuay in lane 2 and Botswana's olympic finalist Simbanda in lane 5, running SBs of 44.92 and 45.05, respectively. Already an olympic bronze medalist in the 4x400m Gardener looks to be capable of excelling individually this year.
---
MEN'S JAVELIN ♦
An even more loaded Javelin competition kicked off the field action. Kenya's Julius Yego, the current world champion, who taught himself how to throw the javelin from watching YouTube videos, led the field on personal bests. His championship winning 92.72 from Beijing being one of the furthest throws in history. His early season throw of 81.94 would only be good enough for 7th in the Qatari capital though, as Australia's Hamish peacock and local boy Ahmed Magour threw 82.97 and 83.13 respectively to pick up some of the first diamond league points of the season. Ahead of them Pitkämäki and Vadlejch had numerous throws over 80m's with the later throwing a huge seasons best of 87.91 in the final round. A distance good enough to win most meets. Here however, it would only be good enough for third. This was partially due to Johannes Vetter, one of Germany's four world-class throwers, launching the javelin in round three to 89.68, a lifetime best and world lead. Indeed that throw sent Vetter 16th on the world all time lists (including dopers). A frequent occurrence in athletics is that when one athlete from a training group performs exceptionally well, the other athletes in that group realise that they have wintered well. That appears to be exactly what happened with Thomas Röhler who then unleashed a monster throw to move from 11th to 2nd on the all time list with an unbelievable 93.90. To provide a little context, that is the longest throw in over twenty years(!) with only Jan Zelenzy having thrown further. Röhler's throw was so far that it almost struck the camera man at the edge of the field, which you can see below:
Without getting too excited, it has long seemed unlikely that anyone would near the big Czech's 98.48 set way back in 1996 when Röhler was in his first year of primary school. Perhaps Thomas may get closer as the season progresses? Although if the European Council's suggestion of wiping pre-2005 world records goes ahead he may not need to.
---
MEN'S 100M ♦
They say that what goes up must come down, and the incredibly high standard certainly dropped with the mens 100m. Akani Simbine continued his fine form, winning in 9.99 to reaffirm the purple patch South African athletics is currently experiencing. Behind him the times were less impressive with Asafa Powell second in 10.08 and multiple world and olympic medalist and two-time drug cheat Justin Gatlin fourth in 10.14. I firmly believe Gatlin's power is waning and would be surprised if he makes the mens 100m final come August. Behind him olympic finalists De Grasse and Meité and 2003 world champion Kim Collins trawled in.
---
MEN'S TRIPLE JUMP ♦
The mens triple jump was equally as poor, with two-time world and olympic champion Christian Taylor winning in 17.25, almost a metre below his best. Despite this, it is almost impossible to look beyond Taylor adding a 5th consecutive global gold in London. For Taylor, who became the first man ever to win olympic titles using different take off legs in Rio, the biggest challenge this year looks likely to be managing his body and preventing injury. Although, I am very excited to see how Max Hess, the young German who leapt to 17.52 in the European indoor heats, before falling apart in the final, develops as the season progresses.
---
MEN'S 1500M ♦
The mens 1500m saw a Kenyan 1-2-3-4-5-6 with 2015 world silver medalist Elijah Manangoi winning in a world leading 3:31.90. A good field trailed in behind him, including Silas Kiplagat, the 2010 Commonwealth champion and 2011 world silver medalist and Timothy Cheruiyot, 2016 African silver medalist. The first non-Kenyan across the line was Ryan Gregson, who became the first Australian man to make an olympic 1500m final in forty years in 2016, where he placed 9th. Gregson ran 3:34.81, a seasons best, and will surely be looking to improve on the national record of 3:31.06 which he set way back in 2010 in Monaco, in the build up to London. There were disappointing runs from Ayanleh Souleiman – the 1000m indoor world record holder (2:14.20 set last year), 1500m 2014 world indoor champion and 2013 world outdoor 800m bronze medalist, trawling home in 3:40.81, and olympic 8th placer Ben Blankenship, who finished dead last in 3:42.20.
---
MEN'S 3000M ♦
I find it a little pointless to stage both a 1500m and 3000m at the same meet. Surely it would make more sense to stage a 5000m and gather a more varied crop of athletes? Nethertheless, there was a fantastic world lead from Ronald Kwemoi, another product of the incredible distance running Kenyan-conveyor belt. 7:28.73 was the winning time, ahead of olympic 5000m silver medalist Paul Chelimo in a personal best of 7:31.57. Also beaten in the field were: Yomif Kejelcha, the 2013 world youth champion (3000m), 2014 world junior champion (5000m) and 2016 world indoor champion (3000m). Caleb Ndiku, who had a clean sweep of titles in 2014 winning commonwealth gold (5000m), world indoor gold (3000m) and continental cup gold (3000m), before going on to win 2015 world outdoor silver (5000m). Kwemoi's scalps keep on coming with Muktar Edris (2015 world cross-country bronze medalist), Conseslus Kipruto (2016 olympic 3000m steeplechase champion) and many other major medalists all finishing behind him. Kewmoi, who at 21 is already the 7th fastest ever over 1500m (joint with Mo Farah) looks to be destined for gold, destined for greatness, destined for glory.
---
MEN'S 400M HURDLES
The most surprising result of the night came in a non-diamond league event as Qatar's Samba Abderrahaman stormed to victory in the mens 400m hurdles in 48.44, almost a second clear of Kerron Clement of the USA in 49.40. Clement, the Olympic Champion and two-time world champion, and the rest of the field were left trailing in the wake of this 21-year-old talent. To articulate how much of a shock this win was, Abderrahaman does not even have a wikipedia page or an IAAF profile. Prior to Doha I had never heard of him. It appears that he set his personal best of 48.31 in South Africa on March 28th this year (which is the fastest time in the world so far) but I cannot recall him having competed at an international competition before. All-athletics.com do not have him down as having competed over 400mh at all last year.
Amongst those beaten were 2011 world bronze medalist LJ Van Zyl (49.49) and reigning world champion Nicholas Bett (49.70). When non-diamond league events are staged at  the same meet often home athletes are given a chance to compete, where otherwise they would not receive an invite. Whilst this is great for the individual athlete it is very rare that they ever produce a performance to match the occasion, making Samba's run all the more remarkable. Take a look at the race below where coming into the home straight he was about 20m clear of the field:
---
MEN'S HIGH JUMP ♦
The final mens event saw Britain's best result of the night with Robbie Grabarz jumping a seasons best of 2.31 to collect seven diamond league points and finish in second place. Grabarz who bounced back from appendicitis earlier this year to claim European indoor silver, will be looking forward to competing in London where he won olympic bronze in 2012. One of the men he shared that Bronze with is Qatar's Mutaz Essa Barshim who won the meet in front of a home crowd with 2.36 – a world lead. Barshim, the second highest jumper in history (2.43m), set in 2014 when everyman and his dog was clearing 2.40, is clearly in incredible shape. However, despite relentlessly clearing sensational heights he is yet to win an outdoor gold having won world silver (2013), olympic silver (2016) and olympic bronze (2012). The man they both shared Bronze with in 2012 is Canada's Derek Drouin, who did not compete in Doha. Drouin, the reigning World, Olympic, Commonwealth and Pan-American Champion and arguably the most competitive High Jumper ever demonstrated good indoor form in both the high jump and decathlon. Having won everything there is to win, Drouin (originally a decathlete) has set his sights on making the Canadian commonwealth team in the multi-events. He will nonetheless be formidable opposition in the high jump in London. Great Britain's Chris Baker also jumped well, clearing a season's best of 2.26 to finish 7th.
---
WOMEN'S 800M ♦
The women's 800m, paced by world and European medalist indoors and out – Jenny Meadows, was billed as a race between 800m double olympic and double world champion Caster Semenya, and 1500m world record holder Genzebe Dibaba. I'm not quite sure why. Yes, Dibaba has run 1.57 for 800m at the end of a 1500m, but that was in 2015. Last year she was not in that shape and her 800m race from earlier this year produced a time of outside two minutes. The line up was somewhat impacted on by olympic silver medalist Francine Niyonsaba having her flight cancelled, meaning she could not get to Doha in time. For Niyonsaba, it being her birthday probably didn't help matters.
Meadows moved through the first 400m in 57.61 with the field a second or so back. At the bell it was surprisingly Goule of Jamaica who led but she was quickly swallowed up by Semenya, Wamboui, Dibaba, Sum and the rest of the field. On the home straight Semenya and Wamboui eased clear of the rest, running sensational 1:56.61's and 1:57.03. Easily the fastest times in the world this year. Semenya will, without doubt, improve her own South African record this year of 1:55.28 and many people, including myself, believe she will break the (dirty) long-standing world record of 1:53.28. That record, set by Jarmila Kratochvílová under the influence of performance enhancing drugs in 1983 has stood largely unapproached for thirty-three years. It is indeed the oldest standing world record in track and field. However, in Semenya – who let's not forget is subject to controversy every race due to the ongoing discussions about her gender and testosterone levels – it has finally found a contender.
There was a good run from 2013 world champion Eunice Sum, third in 1:58.76, bouncing back after a disappointing 2016 where she finished 19th at the olympic games. Also impressive was the personal best of 1:58.92, set my Alemu of Ethiopia in 4th. Dibaba faded to 5th but did dip under two minutes. The worst performance was easily by Poland's Joanna Jóźwik. The world, olympic and european finalist effectively walked home in 2:05.68. The only thing poorer than her performance was her attempt to snuff Semenya's handshake afterwards. Jóźwik who has spoken at her anger of (presumably) intersex athletes (namely the three olympic medalists) being allowed to compete, caused controversy in Rio with mildly racists comments after the 800m final.
Athletics has enough problems thank you very much Joanna, we do not need high-profile racist athletes as well.
---
WOMEN'S 200M ♦
Anything Dafne can do, Elaine can do better. At least that is how it feels at the moment. Schippers, second here in 22.49 demonstrated that she was weathered well when running 10.95 at the Bryan Clay invitational in the US, was beaten by Olympic 100 & 200m champion Elaine Thompson in 22.19. Thompson set a 60m best this winter but it is hard to see how she and Dafne can improve on their 200m personal bests (21.66 & 21.63). These times, whilst not world records, are the fastest times ever by clean athletes and as was in this race, are so much better than anyone else is capable of. Veronica Campbell-Brown, the 2004 & 2008 olympic champion ran a good bend but finished 5th in 23.09. Desiree Henry, Great Britain's future star who narrowly missed out the olympic 100m final, ran a slow 23.22 to finish 7th. Henry, the training partner of Schippers is definitely in better shape than that and will be looking to get much closer to her team-mate when the two next race.
---
WOMEN'S 100M HURDLES ♦
As expected Kenny Harrison ran almost half a second faster than the rest of the field, winning in 12.59. After the crossing the finish line there was bemusement in the stands and commentary box as the world record holder, visibly distressed, began crying, and asked for medical attention. It emerged later that she had broken her hand prior to the race, and yet, and yet, still managed to beat a field containing the olympic silver medalist and world indoor champion Nia Ali – who by all accounts had a horrendous race, the world outdoor silver medalist – Cindy Roleder, and Great Britain's olympic 4th placer Cindy Ofili, who stumbled out of the blocks and was never in the race. The times for all of the other athletes were not good and with olympic champion Brianna Rollins suspended for a year for missing three doping tests, will this year finally bring Harrison a title?
---
WOMEN'S 3000M STEEPLECHASE ♦
One of the most exciting events of 2016. Nineteen year old Ruth Chebet missed the dirty world record of Galnara Galkina by the skin of her teeth on numerous occasions. Before finally obliterating it at the Paris diamond league with a time of 8:52.78, six seconds faster than anyone else has ever run. A steady starting pace gradually increased as the race progressed and at one stage looked like we would get another sub-9 minute clocking. However, foor most of the women in the field it was their first race of 2017, with no indoor season for 'chasers and towards the close of the race, the rust began to show.
At the front however, there were some excellent times, in 5th place, olympic bronze medalists Emma Coburn ran her 6th fastest time ever – 9:14:53. Gesa Felicitas Kraus (2016 European Champion & 2015 World bronze medalist) and Habiba Ghribi (2012 Olympic & 2011 World Champion) were 7th and 9th, both inside the world championship qualification standard. Even then, they were miles behind the lead trio who kicked hard before the bell and moved clear of a world-class field. It appeared as though Chebet would chalk up another win for a long time but at the final water jump Hyvin Kiyeng pulled alongside Chebet and dug deep on the bend to move away. Stretching out towards the line the stadium willed her to at long last break nine minutes and become only the third women to do so, but alas, the 2015 World Champion who has a personal best of 9:00.01 finished in a new meeting record of 9:00.12 the 6th fastest time in History. Surely, surely, this year that time will come? Realising she was beaten Chebet eased back and was pipped to 2nd by Beatrice Chepkoech in a personal best of 9:01.57 (3rd fastest athlete ever) to 9:01.99. Despite easing back, Chebet recorded the 10th fastest time in History. Indeed beyond these three and drugs cheat Galkina, no athlete has run under 9:05.36 (Ghribi).
---
WOMEN'S POLE VAULT ♦
In the field Olympic Champion Katerina Stefanidi of Greece cleared 4.80 to beat Olympic Silver medalists Sandi Morris into second (4.75), both seasons bests. Both attempted 4.85 to no avail but these heights so early into the season, suggest they will come. No marks were recorded by Alysha Newman of Canada and Switzerlands Nicole Büchler, who will both have to return to the drawing board. A solid performance was had by Britain's double olympic finalist Holly Bradshaw in 4.55 and Cuban Yarisley Silva, the 2015 world champion cleared 4.65 to finish 3rd. Silva had to dig deep on numerous occasions, failing twice at her opening height of 4.25, 4.45, once at 4.55 and twice at 4.65 before knocking the bar off three times at 4.75. Lot's of work to be done before London if she wants to defend her title successfully. Stefanidi However, seemed very pleased with her early season form:
---
WOMEN'S SHOT PUT ♦
A low-key Women's shot put actually kicked off 2017 proceedings with a win for Olympic Champion Michelle Carter, throwing a season's best of 19.32. European Indoor Champion and world leader Anita Márton finished second with a disappointing 18.99. There were no real throws of note behind the olympic medalists and one cannot help but feel that the event will suffer without Valerie Adams this year, who is taking the year off to have a baby with her new husband Gabriel Price. The multiple olympic and world champion will leaves a large gap in the event but the ladies in the field should see this as a great opportunity to win an otherwise occupied medal. Adams plans to return in time for the Commonwealth Games in neighbouring Australia next April.
---
PERFORMANCE OF THE NIGHT 
Plenty of stunning results were produced in Doha from athletes either looking to continue their dominance, or wrestle a gold from an old power. None were more imperious however than Röhler. The Olympic Champion will have a fight on his hands to make the German team alone given the strength and depth at present. Yet you wouldn't bet against him, would you?